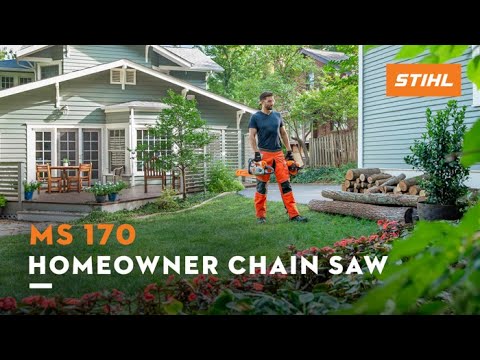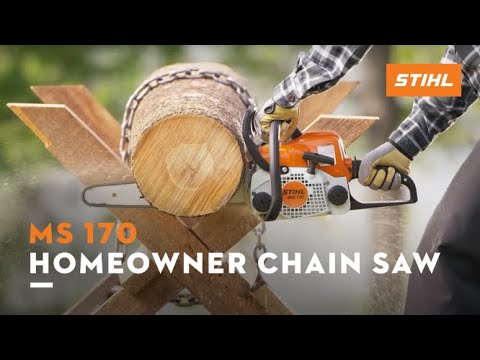 The STIHL MS 170 is the perfect lightweight chainsaw for homeowners seeking a great value. Compact, lightweight with just the right amount of power, the MS 170 makes quick work of trimming or cutting small trees, fallen limbs after a storm, and other tasks around the yard. Even at its great price, the MS 170 has many of the same design features the professionals depend on.
---
POWER SOURCE

Gas

POWERHEAD WEIGHT

8.6

GUIDE BAR LENGTH (Recommended)

16

OILOMATIC® CHAIN

3/8" PMM3
---
---
Features
Made in America

A majority of STIHL products sold in America are made in America of U.S. and global materials.

Anti-Vibration System

STIHL has developed a system for minimizing the vibration levels of handheld outdoor power equipment. The STIHL anti-vibration system helps reduce operator fatigue and provides a more comfortable working experience.

IntelliCarb™ Compensating Carburetor

The IntelliCarb™ Compensating Carburetor is designed to automatically adjust the air/fuel ratio when the air filter becomes restricted or partially clogged and maintains the engine's correct RPM. IntelliCarb™ uses air from the clean side of the air filter to control the diaphragm and flow of fuel. As the air filter becomes dirty and less air is available for the carburetor, the IntelliCarb™ system adjusts the fuel flow to compensate for the decrease in air flow. This is in contrast to typical carburetors that utilize this air from the "dirty" side of the air box.

Ematic™ Lubrication System

The Ematic™ guide bar, when used with STIHL OILOMATIC® saw chain, will provide proper lubrication and less oil consumption than conventional methods. The system works because two ramps, strategically placed in the guide bar rail, help contain the flow of oil and direct all lubrication to the sliding faces of the bar and chain links as well as the rivets and driver holes, which in turn can reduce bar oil consumption up to 50%.
Specifications
| | |
| --- | --- |
| POWER SOURCE | Gas |
| POWERHEAD WEIGHT | 8.6 lbs. |
| GUIDE BAR LENGTH (Recommended) | 16 in. |
| OILOMATIC® CHAIN | 3/8" PMM3 |
| CHAIN OIL CAPACITY | 4.9 oz. |
| ENGINE POWER | 1.7 bhp |
| FUEL CAPACITY | 8.5 oz. |
| DISPLACEMENT | 30.1 cc |
Note: STIHL recommends #3610 (61 PMM3 55) OILOMATIC® saw chain and 16" 3005 008 3913 Ematic™ guide bar combination. Compatible guide bar ranges: 12" to 16"
Warnings and Safety
IMPORTANT SAFETY INFORMATION
The occurrence called "kickback" can cause serious or fatal injury. Always read the instruction manual carefully before using your saw. STIHL uses a green and yellow color-coding system to help you select a powerhead, bar and chain combination that complies with the kickback requirements of ANSI Standard B175.1 (gasoline-powered saws) and §30 of UL 1662/ ANSI Standard B175.1 (electric chainsaws). Ask your STIHL dealer about safe operating procedures and the advantages of the STIHL Quickstop® chain brake, STIHL Quickstop® Plus additional chain braking feature, STIHL reduced kickback bars and STIHL low-kickback saw chains.
STIHL recommends the use of green reduced kickback bars and green low kickback chains on all STIHL chainsaws.
* The actual listed guide bar length can vary from the effective cutting length based on which powerhead it is installed on.
Note: STIHL recommends use of fuel with no more than 10% Ethanol content. Using fuel with greater than 10% Ethanol content may cause damage to your equipment and may void your STIHL warranty.
WARNING!
Improper use of any power tool may cause serious or fatal injury. Read, understand and follow carefully the operating and safety instructions in your instruction manual before using such products.
STIHL products sold through U.S. STIHL Dealers are for distribution in the United States only.
SERVICE AND TIPS
Operating Instructions
The operating instructions for your STIHL product are available right here 24/7. Please review your instructions carefully and often.
Get Operating Instructions
FAQ
Have a question? We have the answer you need. Browse our most frequently-asked questions and get information right here.
Get Answers In The FAQ
Guides And Projects
Discover projects with step-by-step instructions, find advice and tips related to your product and check out helpful how-tos.
View Guides And Projects
Questions & Answers
Reviews