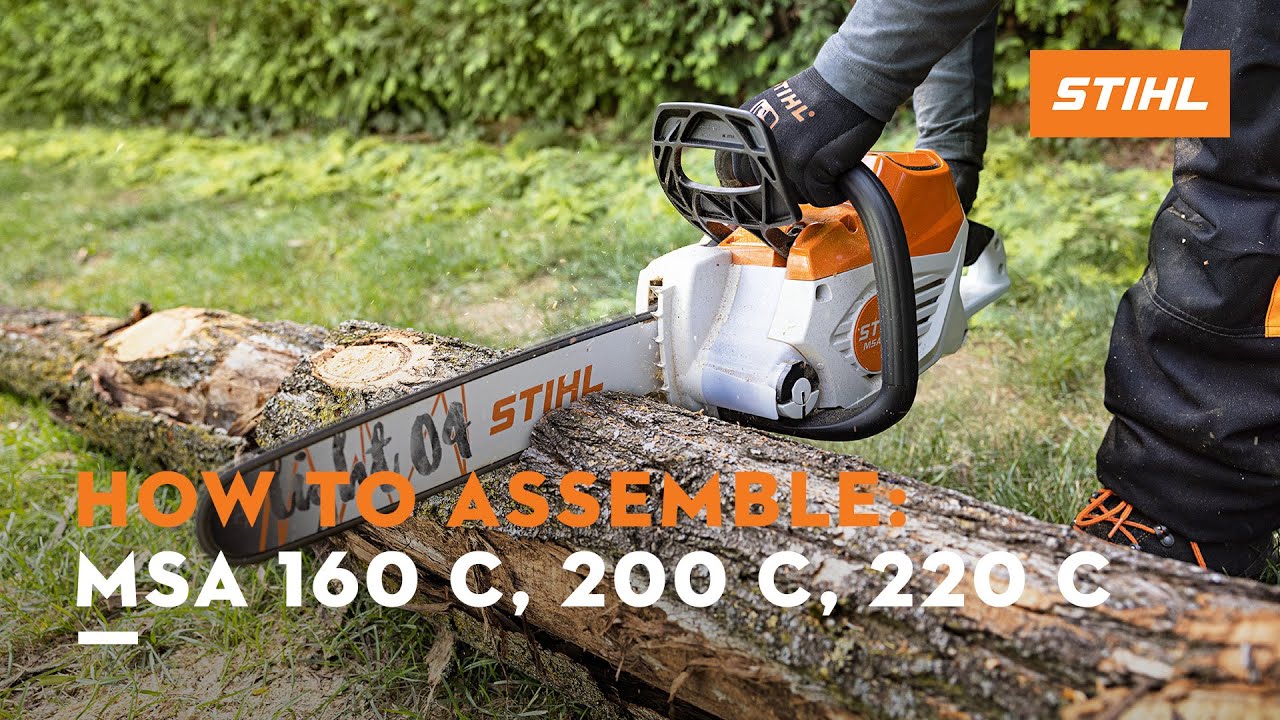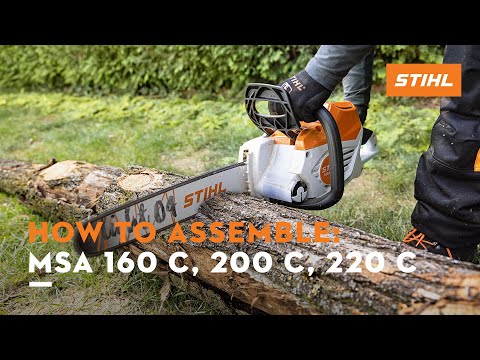 The MSA 160 C-B battery-powered chainsaw features lithium-ion technology for maximum power and zero exhaust emissions. This lightweight, durable weather-resistant chainsaw provides optimal function firewood cutting, storm cleanup, and carpentry work. It comes equipped with the new Light 01 guide bar and ¼" PM3 chain for increased cutting performance over the previous model, as well as a translucent oil tank which makes it easy for users to check oil levels at a glance. The easy start trigger and Quick Chain Adjuster help get the job done with ease and efficiency. Enjoy run times up to 62 minutes when paired with the AP 300 S battery.
Run time may vary based on battery type, charge level and capacity, model, operating style and conditions. Batteries and chargers can be purchased separately or as a combined set with tool.


View Our Usage Chart


---
POWER SOURCE

Battery

POWERHEAD WEIGHT

6.8

WEIGHT (w/ AP 300 S)

11.7

GUIDE BAR LENGTH (Recommended)

12
---
---
Features
Quick Chain Adjuster (QCA) (B)

The Quick Chain Adjuster (QCA) (B) allows the user to adjust the tension of the chain without the use of tools. This allows for easy chain adjustment.

Rubberized Soft Touch Handle

Soft rubber texture is both easy to grip and makes the product comfortable to hold for extended periods.  

Lightweight Portability

Great for maneuverability and extended use.

Side-Access Chain Tensioner

The side-access chain tensioner makes it much more convenient for the user to adjust the saw chain with a bar wrench as opposed to the typical location of the guide bar adjustment screw.

STIHL Quickstop®

STIHL chainsaws are equipped with a chain stopping system designed to reduce the risk of injury in certain kickback situations. It is called a STIHL Quickstop® chain brake. The STIHL Quickstop® chain brake is designed to stop the rotation of the chain if activated by the operator's hand or by inertia if the saw kicks back with sufficient force. In some working positions, the STIHL Quickstop® chain brake can be activated by inertia, stopping the chain within fractions of a second.

Ematic™ Lubrication System

The Ematic™ guide bar, when used with STIHL OILOMATIC® saw chain, will provide proper lubrication and less oil consumption than conventional methods. The system works because two ramps, strategically placed in the guide bar rail, help contain the flow of oil and direct all lubrication to the sliding faces of the bar and chain links as well as the rivets and driver holes, which in turn can reduce bar oil consumption up to 50%.

Toolless and translucent bar and chain oil tank

The translucent bar and chain oil tank makes it easy for users to check oil levels at a glance

Brushless Motor

The advanced brushless motor virtually eliminates maintenance while supplying the power and performance you expect from STIHL.

One battery, multiple tools

STIHL offers a wide array of battery-powered, professional-grade tools designed to take on tough tasks with batteries that can be used across products in the same series.

Weather-Resistant Design

The weather-resistant design gives users the advantages of a powerful tool with a sturdy construction.

Variable-Speed Trigger

Variable-speed trigger allows precise control for each task.

Comes Standard with the ¼" STIHL PICCO™ PM3 Saw Chain

The low-maintenance semi-chisel chain stays sharper for longer than a full-chisel chain with smooth cutting performance to help take on an extended workday.

Features the New Light 01 Guide Bar

The new Light 01 Guide Bar features a narrow nose for maneuverability during precision tasks. The induction-hardened rails deliver durability for dependable cutting and a long lifespan.

Lightweight High-Powered Chainsaw

Featuring innovative battery technology, the lightweight chainsaw brings power and efficiency to maintenance tasks like storm cleanup and firewood cutting.
Specifications
| | |
| --- | --- |
| POWER SOURCE | Battery |
| POWERHEAD WEIGHT | 6.8 lbs. |
| WEIGHT (w/ AP 300 S) | 11.7 lbs. |
| GUIDE BAR LENGTH (Recommended) | 12 in. |
| OILOMATIC® CHAIN | ¼" STIHL PICCO™ |
| BATTERY SYSTEM | AP System |
| RUN TIME (w/ AP 300 S) Up to | 62 min. |
*Product specifications listed are applicable for the most recent model iteration. Manufacturing specs may vary as STIHL products are continually tested and improved. Please refer to the product and consult with your dealer if you have specific questions regarding the model iteration of the product(s) you are purchasing.
Warnings and Safety
WARNING!
Improper use of any power tool may cause serious or fatal injury. Read, understand, and follow carefully the operating and safety instructions in your instruction manual before using such products.
STIHL products sold through U.S. STIHL Dealers are for distribution in the United States only.
SERVICE AND TIPS
Operating Instructions
The operating instructions for your STIHL product are available right here 24/7. Please review your instructions carefully and often.
Get Operating Instructions
FAQ
Have a question? We have the answer you need. Browse our most frequently-asked questions and get information right here.
Get Answers In The FAQ
Guides And Projects
Discover projects with step-by-step instructions, find advice and tips related to your product and check out helpful how-tos.
View Guides And Projects
Questions & Answers
Reviews