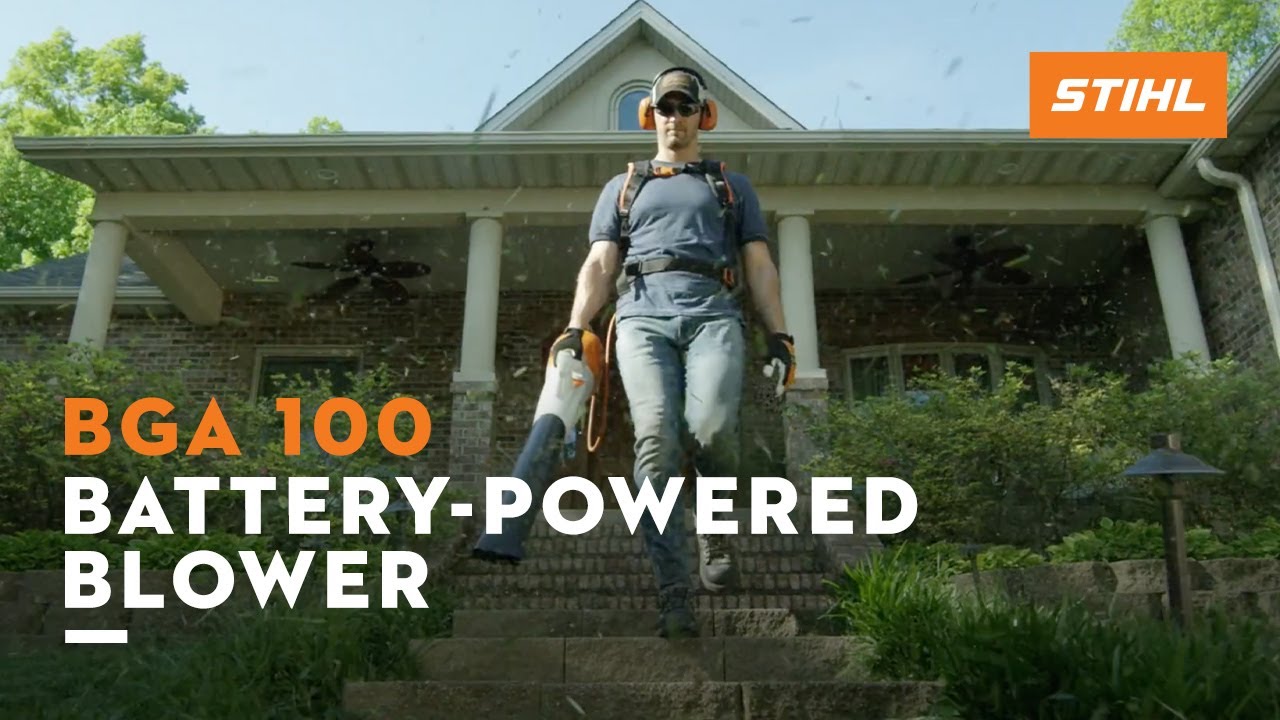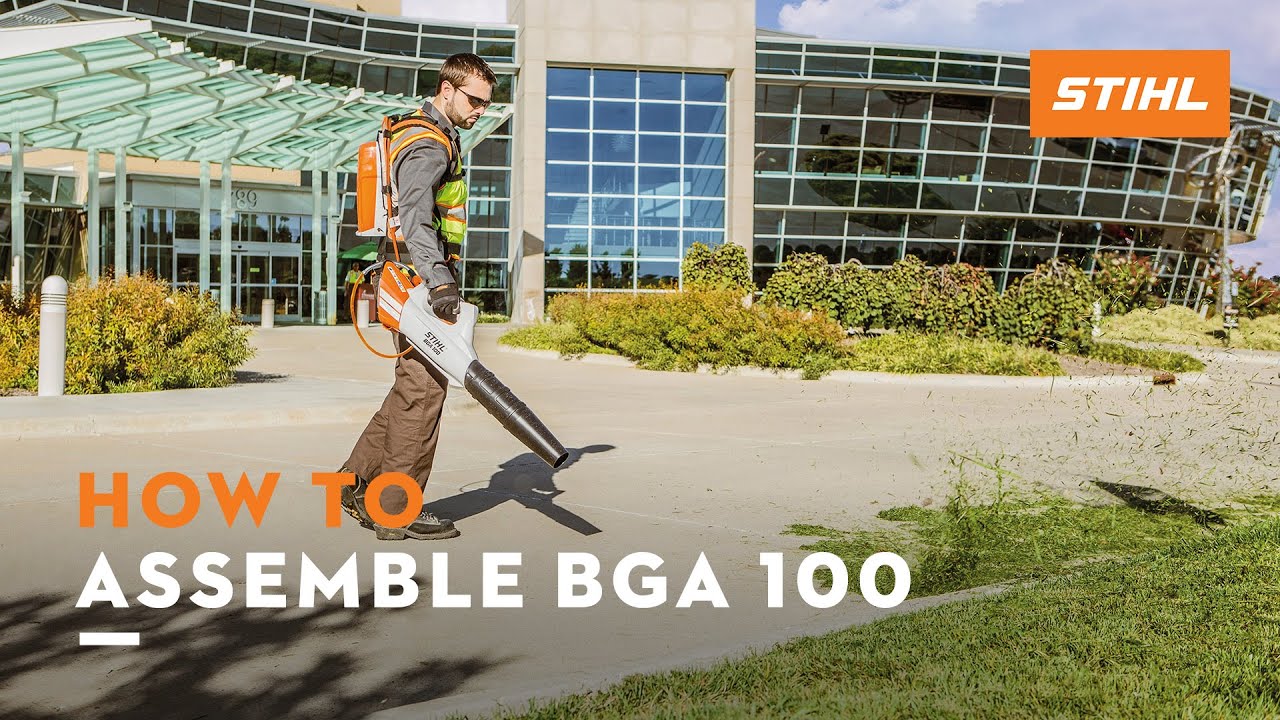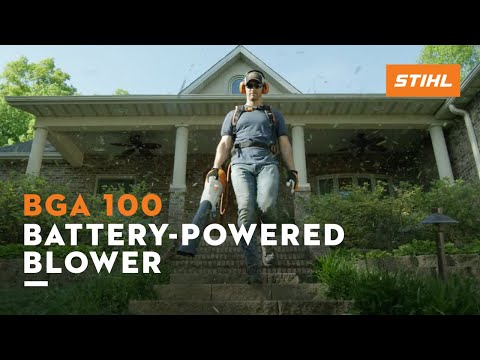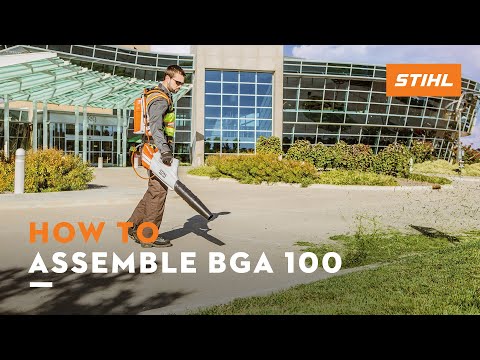 Note: Must be used with battery belt or AR-style backpack battery. Required adapters purchased separately.
The Lithium-Ion battery-powered BGA 100 is built with the professional landscaper in mind. When in boost mode, the BGA 100 is the most powerful dedicated handheld blower in the STIHL range. The new BGA 100 design shifts the battery weight from the unit to the back or hip with a high-performance cable connecting system. This results in a lighter blower and reduces user fatigue. The BGA 100 features four performance levels through a variable speed throttle trigger delivering an even balance of blowing power and run time. Its rear-mounted air intake allows the blower to be used right- or left-handed. The quietest and lightest blower in the STIHL lineup, the BGA 100 allows you to clean up with ease around neighborhoods, urban areas, or other noise-sensitive zones.
Run time may vary based on battery type, charge level and capacity, model, operating style and conditions. Batteries and chargers can be purchased separately or as a combined set with tool.
View Our Usage Chart
---
POWER SOURCE

Battery

WEIGHT

5.5

BLOWING FORCE

17

SOUND PRESSURE RATING

56
---
---
Features
Reduced-Emission Engine Technology - Caring for Nature

The STIHL Inc. "Caring for Nature" seal identifies its powered products that are more environmentally conscious, producing zero or low exhaust emissions. STIHL Inc. defines "low exhaust emissions" as being cleaner than EPA and/or CARB exhaust emission standards.

Soft Grip Handle

This handle design provides a secure and comfortable grip.

Multi-Function Handle

With the multi-function handle, all of the blower's controls can be adjusted with one hand, allowing simple and reliable operation for both right and left-handed users.

Retaining Latch

STIHL Battery powered products feature a retaining latch that prevents the unit from unintentional starts when the battery is inserted.

STIHL Electric Motor

Lightweight and compact, STIHL electric motors require minimal maintenance and feature low noise levels and reduced vibration.

Control Lever

With the control lever, the engine speed can be continuously adjusted to regulate airflow. When the lever is released, the engine stops.
Specifications
| | |
| --- | --- |
| POWER SOURCE | Battery |
| WEIGHT | 5.5 lbs. |
| BLOWING FORCE | 17 Newtons |
| SOUND PRESSURE RATING | 56 db(A) |
| MAX. AIR VELOCITY | 168 mph |
| AIR VOLUME AT NOZZLE | 494 cfm |
| BATTERY SYSTEM | AP System |
| RUN TIME (w/ AR 3000) | 510 min. |
| VOLTAGE | 36 volt |
Note: Newton is the force needed to accelerate 1 kg of mass at the rate of 1 m/sec². Must be used with battery belt or AR-style backpack battery and required adapters purchased separately. The battery working time specifications for each battery charge are estimates and may vary depending on how the tool is used and what is being cut.
Warnings and Safety
Note: STIHL engine products with the Caring for Nature logo are cleaner than EPA Standards for exhaust emissions.
WARNING!
Improper use of any power tool may cause serious or fatal injury. Read, understand and follow carefully the operating and safety instructions in your instruction manual before using such products.
STIHL products sold through U.S. STIHL Dealers are for distribution in the United States only.
SERVICE AND TIPS
Operating Instructions
The operating instructions for your STIHL product are available right here 24/7. Please review your instructions carefully and often.
Get Operating Instructions
FAQ
Have a question? We have the answer you need. Browse our most frequently-asked questions and get information right here.
Get Answers In The FAQ
Guides And Projects
Discover projects with step-by-step instructions, find advice and tips related to your product and check out helpful how-tos.
View Guides And Projects
Questions & Answers
Reviews