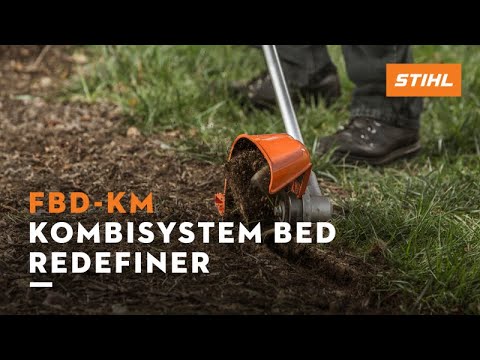 The STIHL FBD-KM Bed Redefiner attachment for the STIHL KombiSystem saves you time and labor by allowing you to maintain mulch and flower beds up to seven times faster than manually using a shovel. It features an "open" deflector design to cut down on clogging caused by dirt and debris, and with a solid drive shaft and a skid plate to protect the gearbox, you can be sure that the STIHL FBD-KM is a strong, durable piece of equipment. Combine that with the precision control of an adjustable depth wheel and a "line of sight" indicator, and you've got a powerful and efficient landscaping tool that's an affordable alternative to a dedicated bed redefiner. The STIHL FBD-KM is recommended for use with the KM 130 R, but can be used with the KM 90 R and KM 110 R.
See it in action!
---
---
---
Specifications
Weights and lengths shown are for attachments only.
Warnings and Safety
WARNING!
Improper use of any power tool may cause serious or fatal injury. Read, understand and follow carefully the operating and safety instructions in your instruction manual before using such products.
STIHL products sold through U.S. STIHL Dealers are for distribution in the United States only.
SERVICE AND TIPS
Operating Instructions
The operating instructions for your STIHL product are available right here 24/7. Please review your instructions carefully and often.
Get Operating Instructions
FAQ
Have a question? We have the answer you need. Browse our most frequently-asked questions and get information right here.
Get Answers In The FAQ
Guides And Projects
Discover projects with step-by-step instructions, find advice and tips related to your product and check out helpful how-tos.
View Guides And Projects
Questions & Answers
Reviews