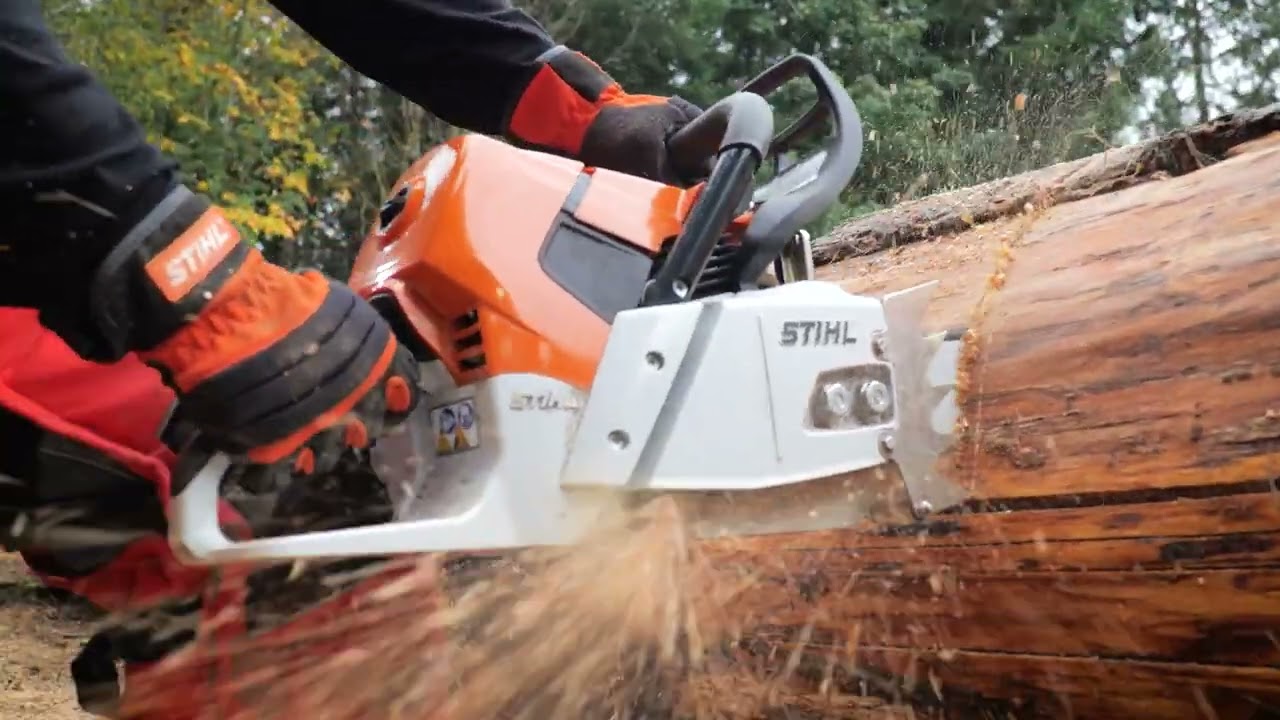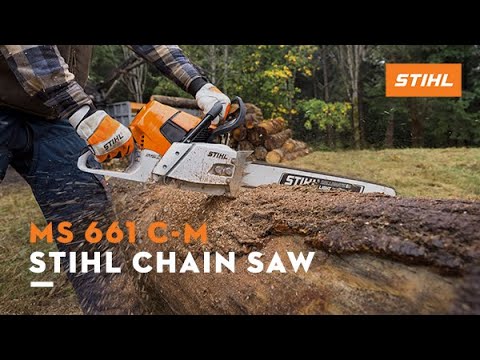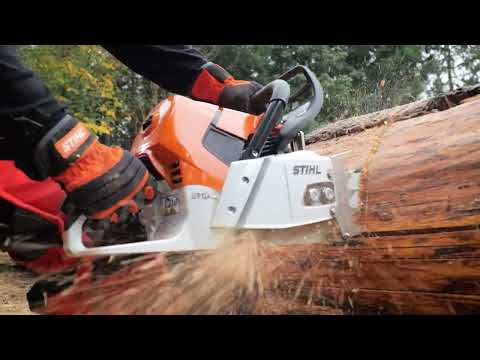 When professionals need to fell large trees, in large quantities, they reach for the saw they know has the power to get the job done – the MS 661 C-M. Featuring an impressive power-to-weight ratio and STIHL M-Tronic™ engine management technology, the MS 661 C-M chainsaw also delivers less vibration and 20% greater fuel efficiency than the MS 660. Other features include a long-life filter system using HD-2 filter elements to provide longer run times between maintenance, an ElastoStart™ handle, and a high output adjustable oiler. (Wrap-handle version available in select areas.) See MS 661 R C-M.
---
POWER SOURCE

Gas

POWERHEAD WEIGHT

16.5

GUIDE BAR LENGTH (Recommended)

25

OILOMATIC® CHAIN

3/8" RS3
---
---
Features
Reduced-Emission Engine Technology - Caring for Nature

The STIHL Inc. "Caring for Nature" seal identifies its powered products that are more environmentally conscious, producing zero or low exhaust emissions. STIHL Inc. defines "low exhaust emissions" as being cleaner than EPA and/or CARB exhaust emission standards.

STIHL M-Tronic™

This product features M-Tronic™ (M) - a new generation of Intelligent Engine Management that eliminates the low and high speed carburetor adjustment screws, compensates for dirty air filter and changes in elevation and fuel quality for optimum engine power at all times.

See it in action!

Decompression Valve

The decompression valve, also referred to as 'deco' or 'deco valve', vents compression in the cylinder for easier starting. The decompression valve temporarily reduces the compression in the combustion chamber during cranking and helps reduce the effort needed to pull the starter rope. It is opened manually and closes automatically as soon as the engine fires.

STIHL ElastoStart™

The ElastoStart™ starter handle is an exclusive feature of STIHL. It is a starting grip with a built-in shock absorber that helps reduce the effort when pulling on the starter cord. The ElastoStart™ starter grip noticeably reduces the sudden peak forces (compression) normally felt during cranking. The forces which occur at the grip after the first compression stroke are smoothed out.

Adjustable Automatic Oiler

The Adjustable Automatic Oiler allows the user to adjust the lubricant of the guide bar and saw chain for different bar lengths and cutting conditions.

Side-Access Chain Tensioner

The side-access chain tensioner makes it much more convenient for the user to adjust the saw chain with a bar wrench as opposed to the typical location of the guide bar adjustment screw.

Anti-Vibration System

STIHL has developed a system for minimizing the vibration levels of handheld outdoor power equipment. The STIHL anti-vibration system helps reduce operator fatigue and provides a more comfortable working experience.
Specifications
| | |
| --- | --- |
| POWER SOURCE | Gas |
| POWERHEAD WEIGHT | 16.5 lbs. |
| GUIDE BAR LENGTH (Recommended) | 25 in. |
| OILOMATIC® CHAIN | 3/8" RS3 |
| CHAIN OIL CAPACITY | 13.5 oz. |
| ENGINE POWER | 7.2 bhp |
| FUEL CAPACITY | 28.7 oz. |
| DISPLACEMENT | 91.1 cc |
Note: STIHL recommends #3624 (33 RS3 84) OILOMATIC® saw chain and 25" 3003 000 4030 Ematic™ guide bar combination. Compatible guide bar ranges: 16" to 32"
Warnings and Safety
* The actual listed guide bar length can vary from the effective cutting length based on which powerhead it is installed on.
IMPORTANT SAFETY INFORMATION
The occurrence called "kickback" can cause serious or fatal injury. Always read the instruction manual carefully before using your saw. STIHL uses a green and yellow color-coding system to help you select a powerhead, bar and chain combination that complies with the kickback requirements of ANSI Standard B175.1 (gasoline-powered saws) and §30 of UL 1662/ ANSI Standard B175.1 (electric chainsaws). Ask your STIHL dealer about safe operating procedures and the advantages of the STIHL Quickstop® chain brake, STIHL Quickstop® Plus additional chain braking feature, STIHL reduced kickback bars and STIHL low-kickback saw chains.
STIHL recommends the use of green reduced kickback bars and green low kickback chains on all STIHL chainsaws.
Note: STIHL recommends use of fuel with no more than 10% Ethanol content. Using fuel with greater than 10% Ethanol content may cause damage to your equipment and may void your STIHL warranty.
WARNING!
Improper use of any power tool may cause serious or fatal injury. Read, understand and follow carefully the operating and safety instructions in your instruction manual before using such products.
STIHL products sold through U.S. STIHL Dealers are for distribution in the United States only.
SERVICE AND TIPS
Operating Instructions
The operating instructions for your STIHL product are available right here 24/7. Please review your instructions carefully and often.
Get Operating Instructions
FAQ
Have a question? We have the answer you need. Browse our most frequently-asked questions and get information right here.
Get Answers In The FAQ
Guides And Projects
Discover projects with step-by-step instructions, find advice and tips related to your product and check out helpful how-tos.
View Guides And Projects
Questions & Answers
Reviews