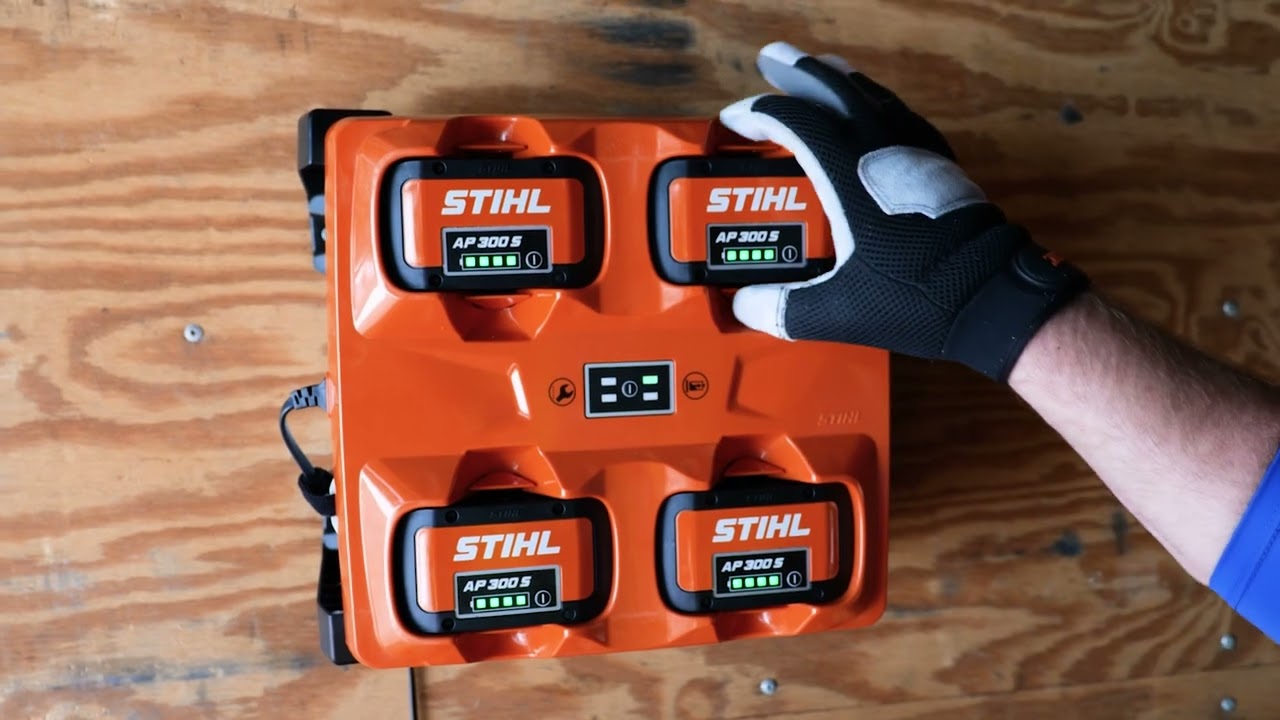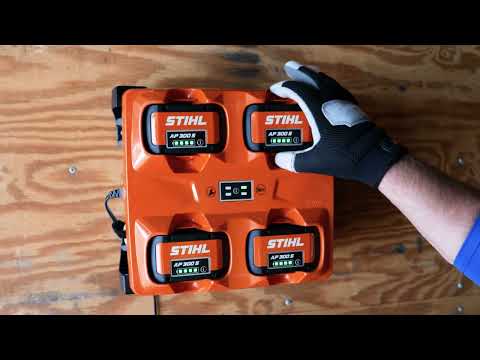 A powerful new accessory for STIHL battery-powered fleets, the AL 301-4 Multi-Charger can sequentially charge up to four AP or AR batteries. Ideal for charging batteries overnight in a workshop or on the go, this charger helps keep professionals powered up and moving all day long—it can charge up to four AP 300 S batteries in just under five hours. Approved for mobile use, the AL 301-4 can simplify charging logistics between jobs. LED indicator lights help show when batteries are fully charged and ready to go, or if they are too hot or cold for use. With its sequential charging, the AL 301-4 uses a reduced amount of energy that enables plugging in up to three chargers on a single 15A/120V circuit. Pros can also save space in their workshop or by mounting the charger to a wall or shelf, or by stacking units up to three high. With its flexibility and convenient charge times, the AL 301-4 Multi-Charger will be a powerful addition to any STIHL battery-powered fleet of tools.
View Our Usage Chart
---
---
---
Features
Innovative STIHL Lithium-ion Battery Technology

Reduces dependence on fossil fuels and eliminates the cost of fuel and two-cycle oil, thus lowering overall operating costs — costs only pennies to charge STIHL Lithium—ion batteries.

Charges up to four batteries sequentially

Able to sequentially charge up to four batteries, the AL 301-4 is a robust and time-saving tool for professional fleets.

Compatible with AP- or AR-style batteries

The AL 301-4 Charger is compatible with charging both AP- and AR-style batteries, providing professionals with a flexible option that can charge their full lineup of batteries.

Approved for mobile use

Can be mounted in a covered truck or trailer.

LED indicator lights

LED lights indicate the battery's charge status

Stackable up to three chargers high

Save space by stacking up to three AL 301-4 chargers on top of one another.

Flexible mounting options

Mount the AL 301-4 to the wall, a shelf, or an enclosed truck or trailer.

Onboard power cord holder

The onboard power cord holder will neatly hold the cord in place.
Warnings and Safety
WARNING!
Improper use of any power tool may cause serious or fatal injury. Read, understand, and follow carefully the operating and safety instructions in your instruction manual before using such products.
STIHL products sold through U.S. STIHL Dealers are for distribution in the United States only.
SERVICE AND TIPS
Operating Instructions
The operating instructions for your STIHL product are available right here 24/7. Please review your instructions carefully and often.
Get Operating Instructions
FAQ
Have a question? We have the answer you need. Browse our most frequently-asked questions and get information right here.
Get Answers In The FAQ
Guides And Projects
Discover projects with step-by-step instructions, find advice and tips related to your product and check out helpful how-tos.
View Guides And Projects
Questions & Answers
Reviews