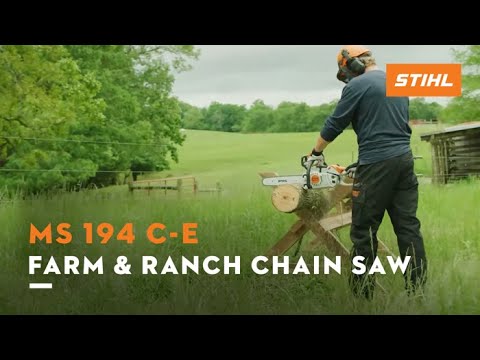 STIHL took a top-rated saw and made it better. The MS 194 C-E has greater displacement, more power, and improved cutting performance versus the previous model. All of this was achieved without adding weight—successfully reducing user fatigue. A fuel-efficient engine results in longer run times and less downtime, while the STIHL Easy2Start™ system provides simple starts. Top that with toolless fuel and oil filter for fast and easy refueling. The MS 194 C-E is ideal for felling small trees, tree trimming, and firewood cutting. Experience STIHL innovation at work with the MS 194 C-E.

Note: Not available for purchase or delivery in California.
---
POWER SOURCE

Gas

POWERHEAD WEIGHT

7.7

GUIDE BAR LENGTH (Recommended)

14

OILOMATIC® CHAIN

3/8" PMM3
---
---
Features
Made in America

A majority of STIHL products sold in America are made in America of U.S. and global materials.

STIHL Quickstop®

STIHL chainsaws are equipped with a chain stopping system designed to reduce the risk of injury in certain kickback situations. It is called a STIHL Quickstop® chain brake. The STIHL Quickstop® chain brake is designed to stop the rotation of the chain if activated by the operator's hand or by inertia if the saw kicks back with sufficient force. In some working positions, the STIHL Quickstop® chain brake can be activated by inertia, stopping the chain within fractions of a second.



See it in action!

Ematic™ Lubrication System

The Ematic™ guide bar, when used with STIHL OILOMATIC® saw chain, will provide proper lubrication and less oil consumption than conventional methods. The system works because two ramps, strategically placed in the guide bar rail, help contain the flow of oil and direct all lubrication to the sliding faces of the bar and chain links as well as the rivets and driver holes, which in turn can reduce bar oil consumption up to 50%.

STIHL Easy2Start™ (E)

The STIHL Easy2Start™ system makes starting STIHL outdoor power tools almost effortless, eliminating the need for a strong pull of the starting cord. This advanced starting system is designed to make starting STIHL products easier. The specific system may vary by model, but in each case, a quick pull overcomes the engine's compression to minimize the strength and effort required to start. Available on selected products.

IntelliCarb™ Compensating Carburetor

The IntelliCarb™ Compensating Carburetor is designed to automatically adjust the air/fuel ratio when the air filter becomes restricted or partially clogged and maintains the engine's correct RPM. IntelliCarb™ uses air from the clean side of the air filter to control the diaphragm and flow of fuel. As the air filter becomes dirty and less air is available for the carburetor, the IntelliCarb™ system adjusts the fuel flow to compensate for the decrease in air flow. This is in contrast to typical carburetors that utilize this air from the "dirty" side of the air box.

Side-Access Chain Tensioner

The side-access chain tensioner makes it much more convenient for the user to adjust the saw chain with a bar wrench as opposed to the typical location of the guide bar adjustment screw.

Reduced-Emission Engine Technology - Caring for Nature

The STIHL Inc. "Caring for Nature" seal identifies its powered products that are more environmentally conscious, producing zero or low exhaust emissions. STIHL Inc. defines "low exhaust emissions" as being cleaner than EPA and/or CARB exhaust emission standards.
Specifications
| | |
| --- | --- |
| POWER SOURCE | Gas |
| POWERHEAD WEIGHT | 7.7 lbs. |
| GUIDE BAR LENGTH (Recommended) | 14 in. |
| OILOMATIC® CHAIN | 3/8" PMM3 |
| CHAIN OIL CAPACITY | 7.4 oz. |
| ENGINE POWER | 1.9 bhp |
| FUEL CAPACITY | 9.1 oz. |
| DISPLACEMENT | 3.8 cc |
Note: STIHL recommends 3610 005 0050 (61 PM3 50) OILOMATIC® Saw Chain and 14" 3005 008 3909 Ematic™ guide bar combination. Compatible guide bar ranges: 12" to 16". The actual listed guide bar length can vary from the effective cutting length based on which powerhead it is installed on.
Warnings and Safety
* The actual listed guide bar length can vary from the effective cutting length based on which powerhead it is installed on.
IMPORTANT SAFETY INFORMATION
The occurrence called "kickback" can cause serious or fatal injury. Always read the instruction manual carefully before using your saw. STIHL uses a green and yellow color-coding system to help you select a powerhead, bar and chain combination that complies with the kickback requirements of ANSI Standard B175.1 (gasoline-powered saws) and §30 of UL 1662/ ANSI Standard B175.1 (electric chainsaws). Ask your STIHL dealer about safe operating procedures and the advantages of the STIHL Quickstop® chain brake, STIHL Quickstop® Plus additional chain braking feature, STIHL reduced kickback bars and STIHL low-kickback saw chains.
STIHL recommends the use of green reduced kickback bars and green low kickback chains on all STIHL chainsaws.
Note: STIHL recommends use of fuel with no more than 10% Ethanol content. Using fuel with greater than 10% Ethanol content may cause damage to your equipment and may void your STIHL warranty.
WARNING!
Improper use of any power tool may cause serious or fatal injury. Read, understand and follow carefully the operating and safety instructions in your instruction manual before using such products.
STIHL products sold through U.S. STIHL Dealers are for distribution in the United States only.
SERVICE AND TIPS
Operating Instructions
The operating instructions for your STIHL product are available right here 24/7. Please review your instructions carefully and often.
Get Operating Instructions
FAQ
Have a question? We have the answer you need. Browse our most frequently-asked questions and get information right here.
Get Answers In The FAQ
Guides And Projects
Discover projects with step-by-step instructions, find advice and tips related to your product and check out helpful how-tos.
View Guides And Projects
Questions & Answers
Reviews